Saint Clara Academy was a girls' school first founded at Saint Patrick Parish in Benton, Wisconsin by Father Samuel Mazzuchelli. After his death, the Dominican Sisters moved the school to Sinsinawa Mound, where their founder's efforts to start a Dominican seminary to raise up more priests for the missions, had not come to fruition. The buildings there were put to good use as a girls' boarding school with a high quality of education based on the classical Trivium and Quadrivium, and including a special attention to the arts and music. The sisters have always held that "Sinsinawa" means "Home of the Young Eagle" in an Indian language, though historians are not as sure. It was, however, certainly home of The Young Eagle, the loveable student magazine of Saint Clara, in which the English translation of Father Mazzuchelli's memoirs first appeared. Some of the writings and art are shared on this site (see below, for instance).
In 1903 there began a two-year Saint Clara College for women on the site, then 1922 a more modern and ambitious foundation, Rosary College. Rosary soon was moved to River Forest, IL, near Chicago; more recently it has been renamed Dominican University. The Saint Clara Academy boarding school for primary and secondary school girls continued until 1969, when it transitioned to a day school under the name Sinsinawa Mound High School.  There is no longer any school at Sinsinawa Mound, which is simply the congregational motherhouse and retirement center of the Dominican Sisters of Sinsinawa. They maintain two high quality museum exhibits there which are open to the public, one on Father Mazzuchelli, and one on the history of their congregation. This is worth a visit, and while you're there buy some Mound Bread in the gift shop, you won't regret that either.
Postcards from Saint Clara Academy, Sinsinawa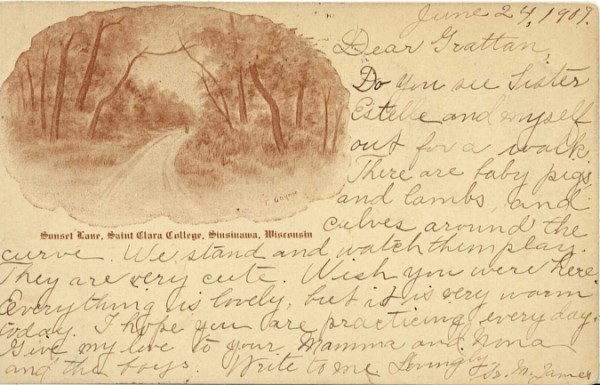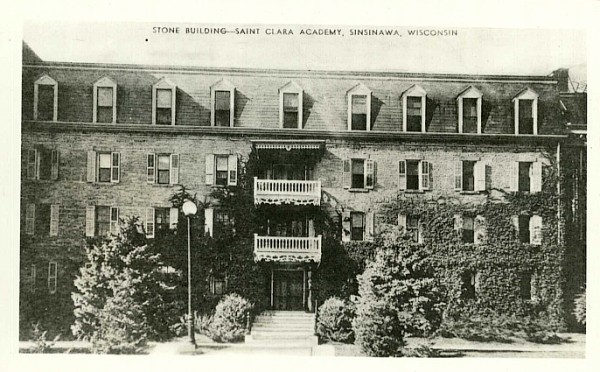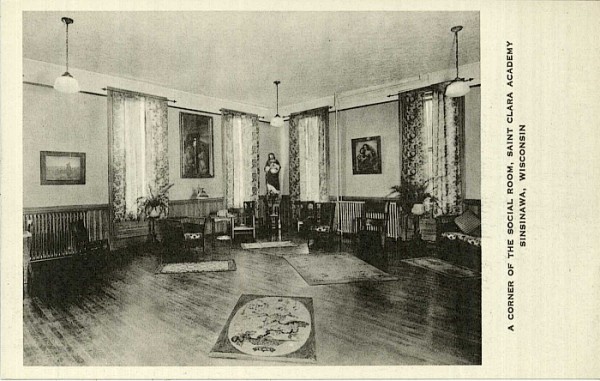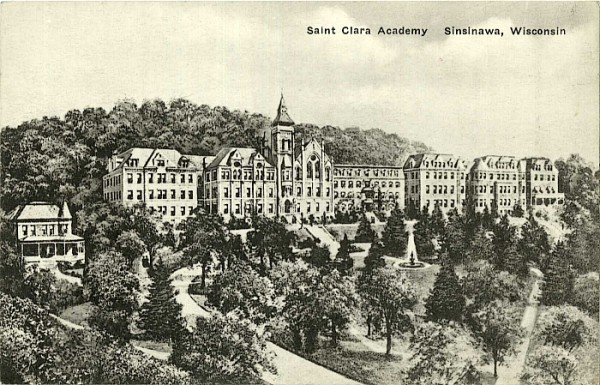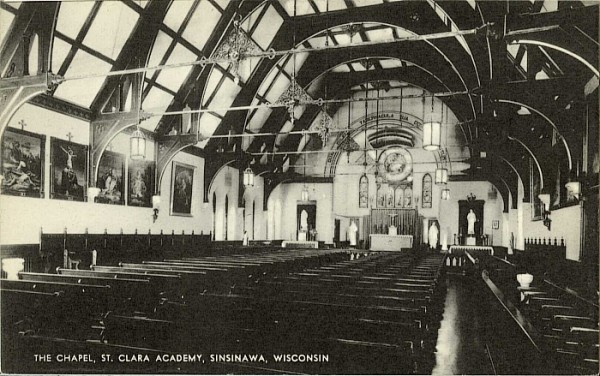 These two articles by high school aged girls are drawn from 1899 and 1900 editions of The Young Eagle, the student magazine of Saint Clara Academy girls' school on Sinsinawa Mound. Benton, Wisconsin, several miles distant from Sinsinawa, was the original place where Father Samuel Mazzuchelli founded Saint Clara. At this time, there were still alumni and sisters living who remembered those times fondly, and even some who remembered Father Samuel himself. — [At the request of the pupils of St. Clara, Benton, we publish the response...
read more
"The woman Dante describes, who influenced him so, was a true daughter of the church, and one that we all wish to be like. Her power over his life from their first meeting, when children of nine, to his death, is wonderful. She is like a light burning brightest in darkest hours, leading him ever upward. …Good women were a great support in the past, but how much greater a part is woman's at present ? Her circle is widened. …She can voice her opinions in public affairs if necessary; but her truest sphere is home. God made her its queen. From there her influence can be most widely distributed."
read more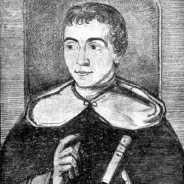 From the Saint Clara Academy, Sinsinawa student magazine The Young Eagle, at the turn of the century. The first three are very pleasing student works. Possibly the one that begins "Today we keep our holy Founder's Day !" may have been written by a sister, on the basis that an author is not mentioned, but only "read by Mary Lyon," who was a student. The poem was described as "the keynote" of the November 4th Founder's day celebration at which it was read. The Founder's Day program also included instrumental and vocal music selections, and an eloquent address by a priest on the life and spirit of the Founder.
read more
This wonderful short story was written in 1898 by Charlotte Lodge, a talented high school aged student of Saint Clara Academy, the girls' school on Sinsinawa Mound, run by the Dominican Sisters. It was published by The Young Eagle, the Saint Clara student magazine, of which Charlotte was also one of the editors. That's her in the middle, in the square picture featured on this article. I have a real admiration for this story, because it is well written and I really get a sense of how Saint Clara Academy was fostering real love for...
read more